Top 5 Wireless Presenters and Laser Pointers of 2022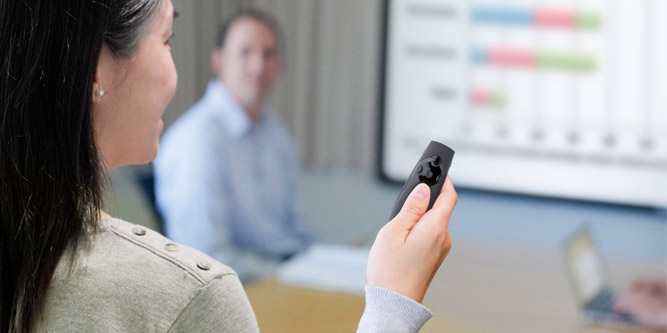 We have compiled a list of the top 5 wireless presenters and laser pointers that will help you deliver powerful PowerPoint presentations.
Your PowerPoint presentations' success is not only determined by the content they contain. These factors include your posture, gestures, and ability to control the presentation slides.
These aspects of presentations should be your focus. You need to find a way that allows you to control the slideshow from anywhere other than your computer. It is also important to be able to highlight key sections of a slide.
We have selected a range of presentation laser pointer for this roundup. Some are more sophisticated, keeping in mind large classrooms and halls. Others are more affordable. You can find the laser pointer that suits your needs, regardless of whether you're a marketer, lecturer, or teacher. Let's move on to the article.
1. Dinofire Hyperlink volume control presenter
You are looking for a pointer with a bright, visible laser that can be used on any background? DinoFire is the perfect pointer for you. It can be used on any background, and still emits a bright red laser pointer.
You can see the red pointer on any background. It serves you up to 98 feet so you can reach the far end of your presentation while still getting the best pointer. The best thing about the pen is its high quality. It will never disappoint.
The Presentation Clicker laser pointer is small and easy to use. It doesn't matter how large your room may be, the connection to the screen will allow you to flip through your slides. It also supports a wide variety of apps, which makes it very versatile.
Pros:
•Slideshow Clicker Support
•Multi-functional button
•Very lightweight and easy to carry around
Cons:
•Mac users won't find the square button to be efficient
2. JoyPlusOX Laser Pointer
JoyPlusOX is a great brand to choose from if you are looking for a laser pointer that you can use for presentations. The JoyPlusOX presentation tool is very easy to use, with all buttons easily accessible and well-placed.
The controller has a page up and down button, as well as a button to switch tabs. The pointer's clip design allows you to carry it as a pen, making it easier to use. The laser pointer is very powerful.
JoyPlusOX laser pointer has the best feature: it doesn't need any software to use. Simply plug the USB receiver into your computer and you can immediately start using it. It requires only one AA battery, and it is compatible with the most popular operating systems.
Pros:
•Good build quality
•Pen-like design
•No software required
Cons:
•There is no mention of the warranty
3. Klein Tools 56026 Pointer
Klein Tools 56026 Laser Pointer is the right product for you if you're looking for a laser tool that can help you inspect pipes and wires. This is an LED penlight that can double up as a torch when working in darkness.
Klein Tools 56026 Pointer, made from aluminum, is lightweight and sturdy. You can also adjust the focus of the laser beam using the control buttons on the remote. The remote also features a glowing tip to help you see in dark places. This laser pointer requires only two AAA batteries.
Pros:
•It weighs in at 2.9 ounces
•It features a glowing tip to make it easy to see in dim lighting.
•This pointer is made with aluminum
Cons:
•A lack of a fashionable design
4. Kensington Wireless Presenter
The Kensington Wireless Presenter is an excellent choice if you are looking for a small, wireless laser pointer and presenter that fits in your hand. You can disconnect the receiver and connect it during the presentation. The adapter can be kept in the presenter when the receiver is asleep.
Kensington Wireless Presenter is a simple, professional-looking product that can be used in many situations. It is a great decision to choose Kensington Wireless Presenter, considering all the features and its smaller dimensions.
This laser pointer looks professional and is great for home or office use. It has simple controls that allow you to move through a presentation. It comes with a USB dongle that can be quickly paired to your computer. The large range also means that you don't have to be anywhere near your device to make it work.
Pros:
•Internal storage for the wireless USB receiver
•Design that is compact and durable
•Reliable 4-button buttons
Cons:
•The power switch not available
5. Trident Underwater Lazer Pointer
Trident Underwater Lazer Pointer has a high-quality, waterproof, and shockproof material. It uses two AA batteries to power it and also has a laser wavelength. The Trident Underwater Lazer Pointer can be carried easily and is compact.
Trident Underwater Laser Pointer is small and lightweight, making it easy for divers to use underwater to point out animals or other objects. It can be used by instructors and tour groups to guide divers. The laser pointer can be safely used and has a wrist strap that makes it easy to carry.
Pros:
•Waterproof and shockproof
•Two AA Alkaline Batteries are required to power the device.
•Battery life can last for 10 hours
Cons:
•Battery life may not be consistent
Most Frequently Asked Questions:
Q.1: Are Blue lasers illegal?
It is legal to use blue lasers. You should only consider the power of the laser when purchasing one. Any laser rated below five milliwatts can be used safely. However, you should not shine lasers directly into the eyes of others.
Q.2: Are Wireless Pointers a Good Choice?
Wireless pointers can be useful because they allow you to freely move while giving a presentation. These items cover a greater distance than 50 feet.
Q.3: Laser Pointers Safe for Use?
Laser pointers can be used safely if they are equipped with a Class I and II laser beam. When purchasing these devices, be sure to verify the beam's type and color.
Final words:
Our article about the best laser pointers you can buy is over. We've tried to include laser pointers in all price ranges so you can purchase one regardless of your budget. You may also use other high-quality presentation controllers or laser pointers. Leave your comments below to share your thoughts.