Top 10 Lesbian Anime You Must Try!
What is Yuri/Lesbian Anime?
In the realm of Anime, the genre of Yuri is not uncommon at all. In fact, Japanese creators have been open about creating wonderful works centered around the romance between girls for some time now. Yuri or Lesbian Anime are basically series about Girls' Love and they do a magnificent job of portraying certain sides of the LGBT community. If you see the genre of Yuri in a show, you can expect the budding romantic relationships between female characters at their finest.
Yuri Recommendations?
Regardless of your gender or orientation, Anime Lesbian series have something to offer to the majority of the audience. There are lessons to be learned, stories to be told and perspectives to be experienced. Whether you're a Yuri veteran or newcomer, the question of which series to watch is always lingering in the air.
Well, you've come to the right place! In this article, we have compiled for you our Top Ten Picks for some of the greatest Lesbian Anime out there. You just can't go wrong with these beauties, which have already established their presence within the media. So without further ado, let's get onto the list!
Our Big 10 of GirlXGirl Anime
10. Princess Principal
Starting off the list is a series that doesn't flaunt the Lesbain Anime tag in your face, but you can bet it has some subtle and unique Girls' love in store for you. The discovery of the Cavorite substance used for advanced military technology had driven the world into violent conflict. We are introduced to a beautiful and deadly group of girls who work as undercover spies for the Commonwealth amidst all the chaos.
These girls are experts in their own unique individual skills and use them flawlessly to turn the tides of a world full of conspiracy, mystery and infiltration. In the middle of all this, we see just how close the girls are and how great their chemistry is. The plan to replace the Princess with Ange, a proficient spy, leads to new Yuri bound events where the girls must do whatever it takes to complete their mission. The endearing romance between the Princess and Ange amidst all the Action is a true sight to behold!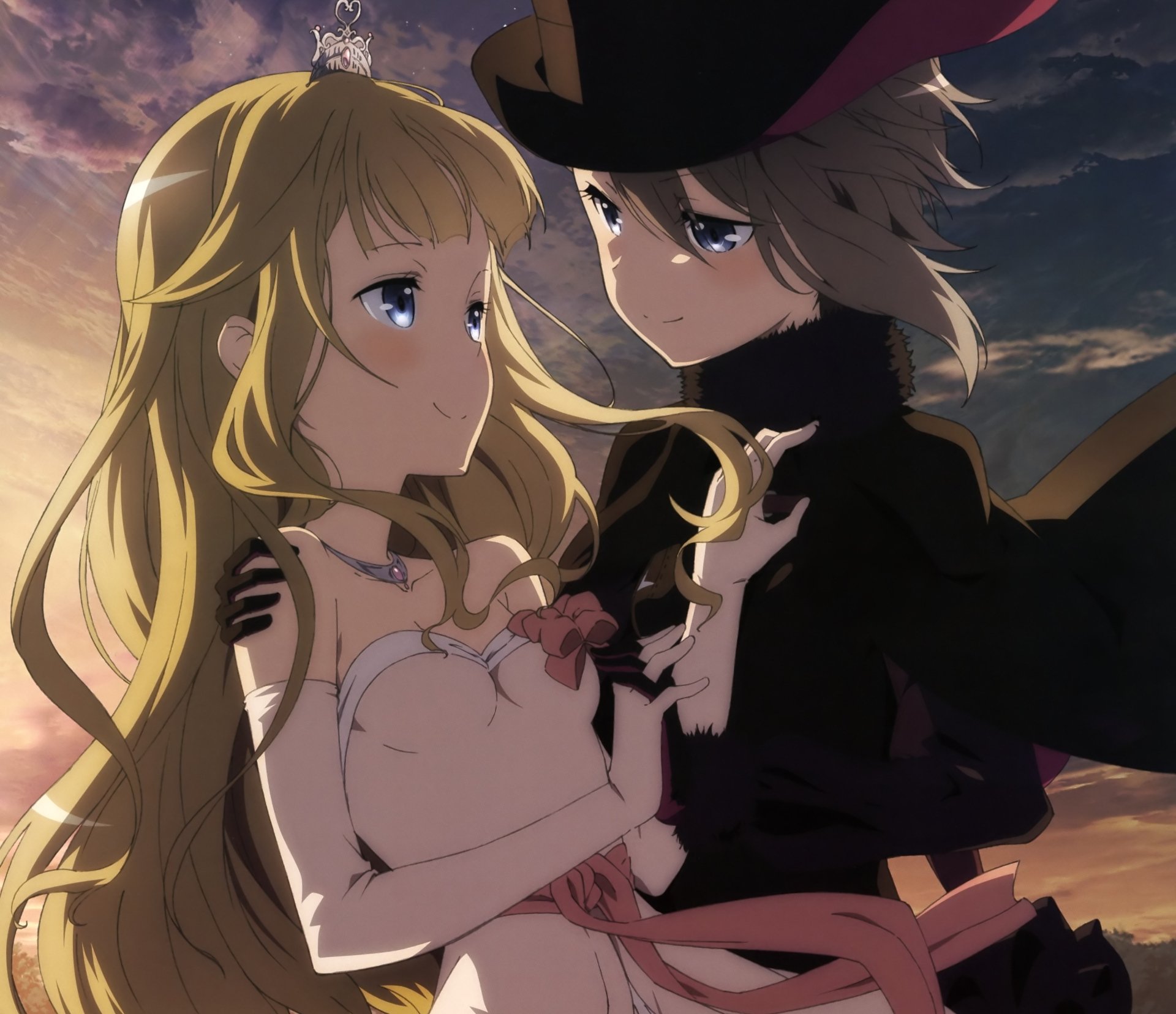 9. Kakegurui
Here we have another series without the Lesbian tag that hints at the genre is all directions. The Hyakkaou Private Academy is a normal school by day, but it converts to a gambling den where students are taught to deal with money and manipulate people by night. Here, money is power and winning is everything. Transfer student Yumeko Jabami is all about the thrill of gambling, nothing else and her borderline insane means start to turn tables in more ways than one.
The hot Lesbian Yuri characters like yandere Midari, the straight-laced Sakaya, the sadistic Kirari and Yumeko take the whole Yuri theme to whole new levels through ganbling! Be it heartfelt confessions, unhealthy obsessions or wholesome relationships, this Anime tackles it all.
8. Riddle Story of Devil
The Myoujou Academy is a private girls' boarding school on the surface, but the students of Class Black are assassins challenged with killing the sweet-natured Haru Ichinose. The victor is promised their deepest desire, no matter what. Assassin Tokaku Azuma decides to tread a different path entirely, as she finds herself romantically drawn to her target. Vowing to never let her "friend" die, Tokaku must now protect her beloved at all costs.
Action-packed, warm, intriguing and beautiful, this Lesbian Anime has so many noteworthy endearing moments. This is one unique Girls' Love that must not be missed for its great plot as well!
7. Sakura Trick
Haruka Takayama and Yuu Sonoda are best friends, but end up getting seated at opposite ends of their classroom in Misato West High School. Within the final intake of first-years here, things are looking grim for the duo but Haruka refuses to let fate keep them apart! However, Yuu soon starts to attract other female classmates, adding to her friend's growing insecurity. Following a deep, affectionate kiss, their relationship starts to intensify and brings to light a whole new side of things. Sakura Trick is one of the most highly recommended Shoujo Ai anime.
You are in for gratifying fluff, beautiful moments, a simple plot, cuteness, enthusiasm, light-heartedness, comedy and ample physical intimacy in this Yuri series. Just don't expect much of a plot!

6. Aoi Hana
Fumi Manjoume and Akira Okudaira used to be best friends, but were driven apart when Fumi's family moved. Now the duo are reunited again at separate High schools, yet things just aren't the same. Fumi soons meets Yasuko Sugimoto, who is undeniably attracted to her. Feeling conflicted, Fumi is now challenged with figuring herself out. Akira, on the other hand, wants their "friendship" to return to its former glory. This is the story of their high school struggles, a battle to keep from being torn apart from their beloved.
This Lesbian Anime is about the controversial reality and the price paid for being true to oneself. The plot is engenius in just how realistic it is, its maturity, serenity and ambience.


Sw
5. Strawberry Panic
Nagisa Aoi first crosses paths with Shizuma Hanazono at St. Miator's Girls Academy, getting bewitched at first sight. After her roommate, Tamao Suzumi, introduces her to the campus, Nagisa becomes eager to meet the exceptional student representative Shizuma once more. It turns out Shizuma is openly interested in Nagisa as well, making the duo quite the hot topic. Yet Nagisa can't help but feel something is off…
The challenges of relationships, hidden feelings, regrets and new possibilities lie in wait, as this dramatic and intriguing series keeps you hooked throughout. If you're a fan of "cute girls doing cute things" and good plots, then you're in for a treat!

4. Whispered Words
The seemingly perfect Murasame Sumika is popular for her excellence in both academics and sports at school. But we all have skeletons in the closet, don't we? In Sumika's case, she's in love with her classmate, Kazama Ushio. To make things more interesting, Ushio is also into girls' love, but hasn't noticed Sumika's feelings at all.
This Lesbian Anime is straightup Yuri and will not waste resources on anything else. The story stays in control while steering forward steadily, as we see a girl who is openly lesbian with a shut-in lesbian. Their relationship is done beautifully, the plot is full of surprises and it concludes after giving you a lot to think about. This is definitely not your typical Lesbian anime, and the only way you'll fully understand why is by watching it.
3. Citrus
Following her mother's remarriage, Yuzu Aihara must transfer to a new school. As a fashionable socialite, she is thrilled at the prospects of making new friends, falling in love and experiencing her first kiss. Sadly, her new school is a super strict, all-girls school, full of obedient and overachieving students. Here she meets the student council president, Mei Aihara, who is also her new step-sister. Mei's cold shoulder treatment leads Yuzu to tease her, but ends up getting forcefully kissed instead. Left to wonder about the truth behind her first kiss and sister's secrets, Yuzu finds herself tackling something completely different from what she expected!
Citrus is an extremely bold Lesbian Anime, because it even includes incest. While it starts off bad, it eventually develops into quite the beautiful tale. The character development is spot-on and you can clearly see the reasons behind prior questionable actions. All you need to do is be patient and let it progress into the blossoming Yuri masterpiece it really is.

2. Adachi to Shimamura
Sakura Adachi and Hougetsu Shimamura had a fateful meeting at the school gymnasium, where they played table tennis to pass the time. As their friendship develops further, their true feelings become more ambiguous. Challenged with complimenting each other's contrasting personalities and determining their love, life is far more complicated now. Once the boundaries of platonic love were crossed, the duo must now confront the reality of their deep bond, one that could bring them closer together or tear them far apart.
This Lesbian Anime takes its sweet time to develop its ambiance plot and is all about the minor gestures and moments surrounding a Yuri romance. One step at a time, you will see the perspectives of two cute girls with polar opposite personalities, presented in an extremely alluring way. If you're a sucker for small metaphorical significances, drama, romance and the serenity of Yuri, this show is perfect for you.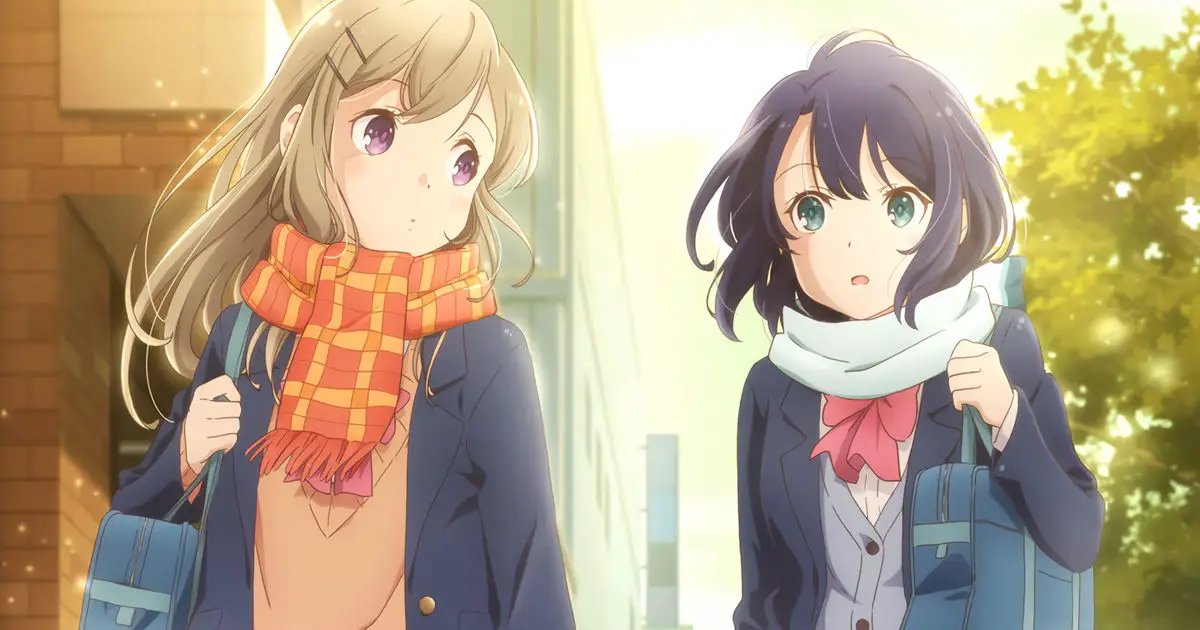 1.Bloom Into You
Yuu Koito was a hopeless romantic who kept dreaming about dream-like love stories. Yet, after receiving her first confession, she feels unexpectedly hollow. She soon realized that she only understands romance as a concept, not as an experience. In High School, she happens to meet the "perfect" student council president, Touko Nanami, who is both mature and elegant. Approaching her for advice, Yuu is beyond shocked when Touko confesses to her. Yuu now sets down a life-changing path in order to find the complex emotion that had long since eluded her.
This underrated gem of a Lesbian Anime show is not about fan service or hot adult scenes between girls. Instead, it presents an ever-relatable plot to people regardless of their orientations. What is it like finding the true meaning of love? This Yuri series will impact you like no other, in ways you wouldn't even expect. It is a beautifully woven story of self-development that makes up a crucial part of everyone's lives….
Thus concludes our Top Ten Picks for the some of the BEST Lesbian Anime out there to date. Whether your taste in Yuri wanes more towards the cute or the hot and sexy side, this list has entries to suffice both. On the other hand, they are not lacking in Story and Animation aspects either. Lesbian Anime shows are becoming more widely accepted and loved, just like its Yaoi counterpart and there should be nothing stopping you from embracing who you really are now.
We hope you found some of your favorites here, as well as promising new titles to check out whenever you please. There are so many more great Lesbian Anime characters to be explored, but sadly we cannot include them all here. For more related content, check out the following links;
https://thecinemaholic.com/lesbian-anime/
https://otakukart.com/20-lesbian-anime-that-you-will-love/
Thanks for reading!