The Devilish Kuromi!
The Hello Kitty franchise is basically built around the character Hello Kitty herself, also known as Kitty White. This revolutionary fictional character was brought to life by Yuko Shimizu sensei and designed by Yuko Yamaguchi sensei under the Japanese company Sanrio.
Hello Kitty cannot run the entire franchise on her own, so she has a lovable cast of supporting characters to lend her a hand. Among them, a character that really stands out is the Devilish Kuromi! What makes her so much of an icon? Let's find out!

Who is Kuromi?
The ever-unique Kuromi is none other than My Melody's rival, a cute white rabbit character sporting a black jester's hat with a pink skull on the front center and a black devil's tail. This skull on her hat is special; its facial expressions change to complement Kuromi's current mood. Her entire look is quite fitting, considering that her birthday falls on Halloween, the 31st of October. But when translated to English, her name simply becomes "Chrome." What makes her so popular are her cute hints towards the punk, scene, and goth cultures, becoming accepted amidst such crowds.

Some neat facts
Kuromi's appearance shares many similarities with other cartoon characters from the 1990s. One of the most noteworthy is Pichu from Pokémon.
Kuromi goes by the alternative name of Kurumi Nui, typically used as a pseudonym.
Hailing from the My Melody universe, this cute female rabbit enjoys hobbies like writing in her diary and cooking.
She holds a general love for romantic short stories, food, shallots, meat, the colors black and hot pink, and making all kinds of mischief.
Her closest friends are Nyanmi, Wanmi, Konmi, Chumi, and Baku, alongside My Melody, whom she treats as her enemy. If you searched a dictionary for three words that described the devilish rabbit the most, you'd likely end up with Villain, Punk, and Tomboy.
Kuromi is voiced by Junko Takeuchi and made her debut back in 2005.
In Hello Kitty and Friends Supercute Adventures, it is revealed that Kuromi has a major crush on Badtz-Maru, the male penguin with spiky hair.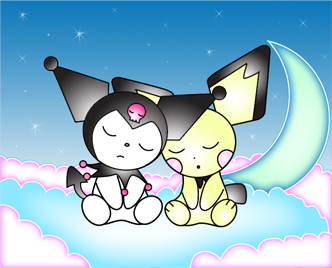 Personality overlooks
Kuromi is not just all about cute looks and devilish tendencies. In fact, her personality is quite interesting and contradictory. She looks all tough and punk on the outside but is actually very girly and attracted to good-looking guys quite easily. Like her aforementioned hobbies, she enjoys the humble acts of writing about the days in her diary and reading romantic short stories.
Her go-to colors are black and hot pink, though, as blatantly seen in her design. Her favorite dishes are shallots, all kinds of meat, and quite possibly cherries, too, as hinted in recent merchandise. Even while flaunting around as a villain, her love for food and cooking remains to be seen. A rowdy free spirit, if you may, and that's exactly why fans love her.
To this day, Kuromi continues to be a "punk" tomboy counterpart to My Melody, who is Hello Kitty's best friend. Even while Kuromi's feelings towards her are mostly of a rival nature (owing to her attempts to seem tough), My Melody only harbors warm feelings towards Kuromi through and through.
Kuromi's Company
There is even more, to love about the devilish Kuromi! She happens to be the leader of a mischievous biker gang called the "Kuromi's 5." Her entourage of members consists of the purple cat named Nyanmi, the pale orange dog named Wanmi, the white fox named Konmi, and the grey-white rat named Chumi. They all don their signature black color as they drive all around the place in a menacing fashion. There's nothing they enjoy more than riding their tricycles recklessly and causing havoc at breakneck speeds. This is a nice nod towards the yakuza-inspired "Bosozoku" girl gang sub-culture in Japan.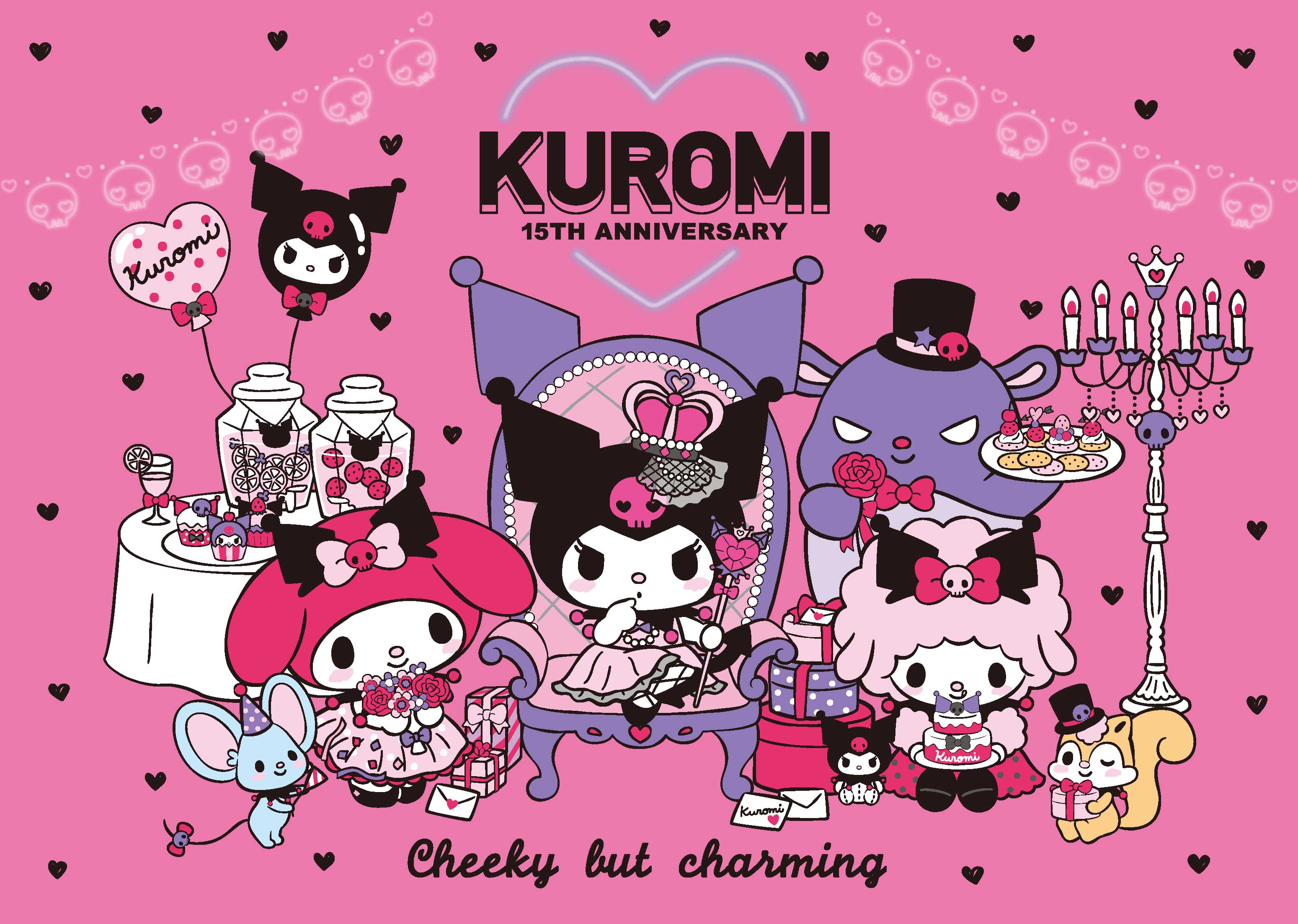 Onegai My Melody
Kuromi hails from the Onegai My Melody Anime series. In this adorable series, we see how Kuromi continues to hold a strong grudge against My Melody, stemming from minuscule mistakes My Melody committed during their childhood. To this end, she maintains a notebook called the "Kuromi Note," which is filled to the brim with over 6,324 instances of when My Melody had wronged her.
All these "mistakes" are small and innocent, such as My Melody simply eating the last pickled onion from Kuromi's school lunch tray. Regardless, Kuromi considers them as traumatic events that would never stop tormenting her and vow to enact revenge someday. Over the course of events, it becomes apparent that these negative feelings originate from her jealousy against My Melody for being the "cuter" of the duo. These emotions gradually evolve into blatant delinquency out of pure rage and hopelessness against the world…
Her journey is one that even spanned worlds. After fleeing from Mariland and entering the human world, she ends up meeting, partnering up with, and falling madly in love with male human Keiichi Hiiragi. He is a cold-hearted bishōnen violinist falling within the scope of Kuromi's spot-spots. Together, this antagonist duo sets out on a devilish path for revenge. After getting chosen by the Dark Power to charge Kuromi's weapon, the Melody Key, via his violin playing, Hiiragi decides to assist Kuromi in her quest to collect 100 black notes. This feat would allow them to summon the Spirit of Dark Power and finally get revenge against My Melody.
More to adore
Sanrio introduced Kuromi's character in 2005 under the My Melody universe.
This self-proclaimed rival of My Melody is one of the most pivotal characters of the Onegai My Melody Japanese Anime franchise.
Onegai My Melody also originated in 2005 and eventually spun-off sub-series and other related media.
Despite her hatred for My Melody, Kuromi resembles her quite a bit. The biggest differences are her black hood with the pink skull design showing off an 'I rock' message, spiky ears, and a pointy devil-like tail.
As mischievous as she is troublesome, she is described as a "cheeky but charming" character on the official Japanese Sanrio website.


Kuromi is a "tomboy" encapsulating "a rowdy free spirit." This doesn't stop her from "quite girly on the inside" and having a soft spot for cute guys.
Her love for romance novels can even be considered an addiction.
If asked to pinpoint one single color as her favorite, she would most definitely be set on black.
Her favorite dish would be pickled onions or "rakkyou."
Kuromi has a minion called "Baku" (a purple tapir), who can fly across the sky.

Want more Kuromi?
Wanna know, see, hear and experience more about the devilish Kuromi? Check out the following websites!
https://hellokitty.fandom.com/wiki/Kuromi
http://sanrio.shoutwiki.com/wiki/Kuromi
https://www.sanrio.com/collections/kuromi

Conclusion
Kuromi is not your typical good-two-shoes from the Hello Kitty franchise, and that's exactly why she is so popular. Her duality and contrasting personality make her quite an interesting character. What's more, she is as cute as a rabbit can get, especially if My Melody isn't your cup of tea. So get on board with this mischievous anthropomorphic imp today!