Planning your first camping trip? Here is what camping all about
What is camping all about?
Camping is one of the best ways for humans to get in touch with nature and experience the beauty of the wilderness up close. Everyone especially children love camping and the activities that come with it.
No matter where you live chances are there is going to be a camping site nearby and if you are someone who loves the outdoors then you would naturally want to experience camping firsthand. With that being said a lot of people who are planning their very first camping trip tend to be unsure about this outdoor activity.
Camping can be as simple as staying a night outdoors with complete supplies to more advanced forms of camping where we cook and forge using what is available in the wilderness. If you are planning your first camping trip and want to know more about what a camping trip entails then keep reading. Because this article will explain what camping is all about and what this activity consists of.
Camping site's location makes a huge difference
Whether you're camping in a national park or a recreation area, where you stay can make or break your camping trip. Think about exploring the area around your house. The distance people are traveling has gone down by about 40 percent.
Some campgrounds require you to make a reservation ahead of time, but a lot of them let you just show up. Some national parks are getting more visitors than ever before, so you might want to show some love to places that don't get as much attention if you prefer privacy.
Camping takes you closer to nature: When people spend the night outside, they can see constellations they can't see at home and hear sounds of nature, like coyotes howling or birds singing. People camp more than anything else to have an adventure in nature.
Camping is an immersive experience, whether you set up a tent in the woods or park your RV in a campground. People who go camping feel the rain, wind, and snow They might see animals in their natural habitat and get to appreciate them.
With "wild camping," also called "dispersed camping," you can just pick a nice spot and stay there, usually without needing a permit, paying a fee, or making a reservation.
Some national parks and forests have a few spots where you can camp in the wild, but the best places are those that are managed by the Bureau of Land Management (BLM). On BLM public lands, people can camp for up to 14 days in a row, but only once every 28 days.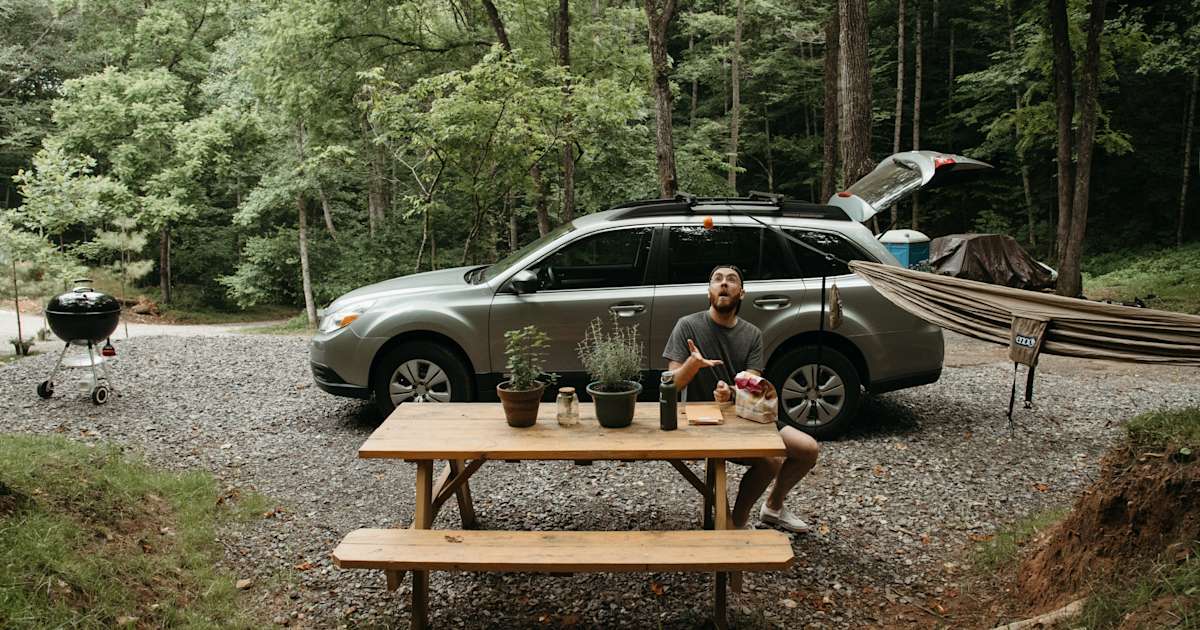 Equipment used during camping
Just like any other outdoor activity or even sport camping requires you to equip yourself with the right tools in order to make sure you have the best experience possible during camping. Now keep in mind that depending upon where you are planning on camping you may not need all the items we are listing below. With that said here is a list of camping equipment that you should carry if you are planning on staying at the campsite for an overnight stay:
1.Camping chair
The camping chair is the most important thing for relaxing while camping. Sitting in a camping chair is much more convenient and comfortable than sitting on the ground to eat, sit, or just watch the campfire.
2.Camping stove
When the weather is too wet to make a campfire, a camp stove is a reliable and faster way to cook food.
3.Trash Bags
To be a good camper, you need to have a healthy respect for nature. Bring a few trash bags with you so you can keep the campsite clean.
4.Kit for First Aid
You should bring a first-aid kit with you when you go camping. In your first aid kit, you can put painkillers, antibiotic cream, bandages, gauze, and bug spray. If you want to bring your equipment with you, there may be extra costs.
5.Camping Bag
One of the most important things to bring on a camping trip is a camping bag. It has to be strong, waterproof, and easy to carry.
6.Sleeping Bag
Since nights are usually much colder in nature, a good sleeping bag will help you stay warm and comfortable while you sleep.
7.Flashlight
The flashlight is a must-have for your camping trip, and everyone in your group should have their own.
8.Wet Wipes
During your camping trip, you probably won't see a shower or even running water, so it's a good idea to bring a couple of boxes of wet wipes for cleanliness.
9.Tent
You will need a tent to stay safe in the woods. You need a strong tent that can stand up to different kinds of weather.
Cooking and eating during camping trips
When camping you can either bring your own food or cook food on the campsite. If you want to cook food on-site that needs heat, you'll need to decide whether you want to use a campfire or a camp stove. When camping, you don't have to cook if you don't want to. You can just as easily bring sandwiches from home. If you don't want to go grocery shopping at all, you could buy camping meal kits.
These kits come with things like red bean chili and green lentil soup. If you choose to cook your own food, there are a few things to keep in mind. Some places have rules about campfires or don't let people have them at all. Other places have grills that anyone can use, but you have to bring your own fuel.
Depending on what you plan to eat, you might also need pots, pans, plates, and cooking tools. Bring what you can from home and buy things that can be recycled if you can't.
How much does a camping trip costs on average?
People who have never been camping before are often overwhelmed by all the things they need to buy before their first trip. Even people with a lot of money can start to worry about how much everything will cost in total. After all, camping is often seen as a cheap hobby, which is why many people take it up. Having to pull out your credit card over and over again can make you question your decision to go camping.
When you add up the costs of all the gear and supplies you'll need for your first camping trip, you'll see that you'll need to spend between $500 and $1300. This is a wide range of prices, and how much you end up spending will depend on the choices you make.
Some people who want to go camping might think this is a lot of money, but most of the camping supplies are one-time purchases and they will last you for many camping trips. Now of course they might not last forever, but on your next trip, you won't have to spend very much money at all.
Camping is one of the healthiest activities you can do both on your own and with your family and friends. If you were planning your very first camping then the information shared in this article is going to make sure you have the best time during your trip.