How to choose the best dog water dispenser for your dog?
The summer is in full swing and humans aren't the only one's who feel the heat. Pets especially dogs with thick coats can get hot quickly during summer and as a dog parent, it is your job to keep them hydrated.
Sure a water bowl may seem like the obvious option to give your dog the water it needs however there are more convenient ways you can keep your dog hydrated. A dog water dispenser is a step up from regular old water bowls because they keep the water clean and dispense water whenever your dog needs it.
These dog water dispensers are quickly replacing the regular water bowls and they are designed with the needs of dogs in mind. So if you get a dog water dispenser you can make sure that your dog gets clean water every time they need it without the need of refilling the bowl.
With that being said there are quite a lot of water dispensers out there which can make it difficult to filter through them and choose the right one for your dog. So if you are wondering how you can buy the best dog water dispenser then keep reading because we are going to help you in choosing the right water dispenser for your pup.

What is a dog water dispenser?
As the name suggests, dog water dispensers are like automatic pet feeders, but they are filled with water instead of food. There are many options when it comes to dog water dispensers, but the basic idea behind them is the same.
They are made so that water keeps flowing into a dish or in some cases directly out of an outlet for your dog to drink from. Some of them get water from gravity, while others plug into the water supply and work like a fountain.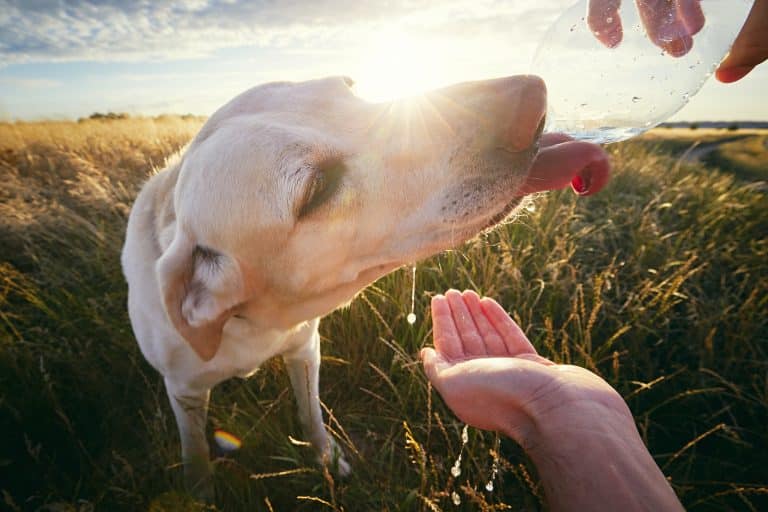 How can you choose the best dog water dispenser for your pup?
Now keep in mind that when you are choosing a dog water dispenser you will have to keep your dog's needs and preferences in mind. With that said here are some key points to consider when buying a dog water dispenser:
Size of your dog
The type of water dispenser you need will depend a lot on the size of your dog. If you have a puppy, a small dispenser with a decent water holding capacity will do. But if you have an adult dog that needs more water, you might want to think about a gravity-fed dispenser, which can hold more water and is less likely to fall over.
If you have a young puppy that is very active, you might want to get a water dispenser with a built-in water filter to keep their water clean and fresh.
Ease of cleaning
After you think about how much water the dispenser can hold, you should think about how easy it is to clean.
You need a good model made of a material that is easy to clean and won't scratch.
It should be easy to take apart and clean, not to mention you need to consider the availability of replacement filters before buying a certain dog water dispenser.
Climate and weather conditions
If you live in a warm area, you might want to get a water dispenser with a built-in cooling system to keep your dog's water cool. If you live somewhere with cold weather, on the other hand, you might want to buy a water dispenser that can be used indoors and outdoors and is insulated to keep the water from freezing. Dogs are known to drink plenty of water in winters so make sure the water they are getting in the cold season is nice and warm so they don't reduce their water intake.
Portability
Large water dispensers are not very portable, and they aren't easy to carry when you are traveling with your dog.
As a portable water source, a bottle dispenser is better for when you are traveling with your dog. The dispenser bottle is easy to carry, so it's a great way to make sure your dog has clean water to drink when they are outdoors or on a trip.
Conclusion
If you keep all these considerations in mind when choosing your dog's next water dispenser you are sure to get the right one. With a little research you should be able to find a dispenser that ticks all the check boxes we have stated above.